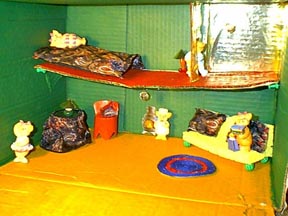 This is the dollhouse from the front. It's made up of 2 stories with 2 rooms upstairs and one room downstairs. The interior is painted with paints I had around the house which is why it's red, green, and yellow. The house is populated with little plaster pigs. The materials I used are basically a hot glue gun, a card board box, 2 old pairs of panties, and a bunch of junk I found around the house. I didn't buy anything at all for this project.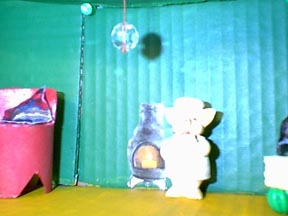 This is the kitchen area of the house. I might try to make an actual stove at some point, but right now I'm using a picture cut out from a magazine and glued to the wall. The light fixture is a clear bead hung up by a piece of embrodery floss.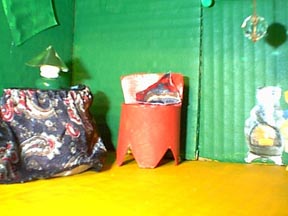 This is a chair I made out of a piece of paper towel tube for the legs, an egg carton for a back, and a milk top for a seat. The pillow on the chair is made from a pair of my panties (clean, of course) that had a rip in them. The table is actually a baby food jar and lid and the dust ruffle is another pair of panties. The elastic band is part of the panties since I don't sew. The lamp is made of beads held together with a Hi C straw. The lamp shade is a piece of Christmas wrapping paper cut in a circle with a slit to the center to form a peak.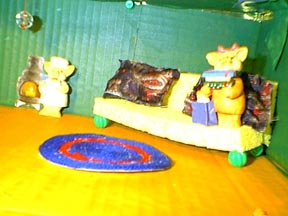 This is a couch made from a sponge. The legs are beads. The rug is yarn glueded to a circle of cardboard. There was no special trick to it, just yarn spiraled around. The pillows are made from the same material as the table's skirt.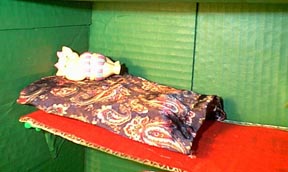 This is the bedroom. It's located on the 2nd floor The blanket is the same material as everything else in the house. The bed is a sponge that I painted black around the edges to blend in with the blanket where it doesn't quite meet the floor.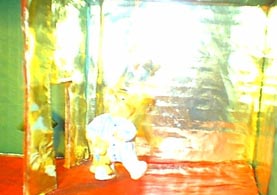 This is the "gold room". It doesn't really have a point yet. I papered the walls with metallic christmas wrapping paper and that makes it hard to take a picture of since it reflects the flash. There is another light fixture in here and the only door in the house is located between the gold room and the bedroom. The wall is detachable to give me more room to work. You can sort of see another bead lamp in the corner of the bedroom.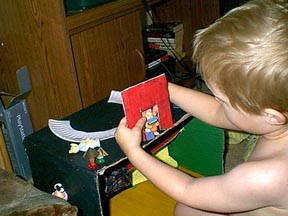 This is Elijah enjoying the fruit of my labors. You can see that he doesn't really care about the house itself too much. It's the pigs he really likes. Overall though, I'd say that the project was worth it.


New Additions >>